June 22, 2013
This isn't a new tutorial, it's one I made for the Creative Addictions Forum a while back as a mystery tutorial, and thought I'd post a link to it here.
The tutorial is hosted at the Creative Addictions Forum.
The tutorial section of the forum is open to everyone, you don't have to be a member.
But if you like what you see, please feel free to join our group...we're a friendly bunch, and have lots to offer!
Here's the link:
And here's a few sets that I made using the tutorial: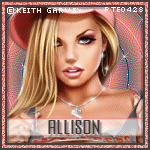 ~Allison~