August 31, 2014
When I saw
this
great template by Millie's PSP Madness, I knew I had to tag it.
I used a fab tube by Vika Misticheskaya, which was gifted to me by my friend Denny. The tube is available at
PFD
. I also used a beautiful kit by Raspberry Road Designs, available
here
.
One more tag to show off...well Facebook Timeline set actually.
I made this set for a contest at CDO, using an adorable tube by Maryline Cazenave and the great matching kit by Ladyhawwk Designs, both available at
CDO
.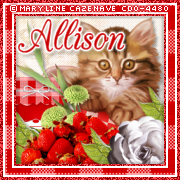 ~Allison~